Getting Started
New to LSIGraph? Start here!
Introduction
LSIGraph is designed with the belief that everyone should have the power to rank on page 1 of Google search results. You do not need to be a superstar SEO agency or possess an in-depth knowledge of how SEO works.

All you need is the burning desire to see your content on the first page of SERP, and the right toolset to realize it.

LSIGraph is that toolset.

LSIGraph gives you the full suite of tools for every part of your SEO content creation workflow. Keyword Research helps you easily spot high ROI keywords, Content Writer helps you craft highly relevant and optimized content that would appeal to both your audience and search engine algorithms, Planner streamlines your content silo process, and Bulk Keyword Data saves you precious time by allowing you to research your list of keywords in a single go.

It doesn't matter if you are new to SEO content creation, or if you are a decades-old SEO veteran. With LSIGraph, you can make content that consistently ranks highly in SERP, and with half the time it takes compared with doing it manually (eww spreadsheets).
This comprehensive tutorial will walk you through all the features of LSIGraph and show you how to:
Main Dashboard
Welcome to your personalized dashboard!
This is the first page you'll find when you log onto your LSIGraph account.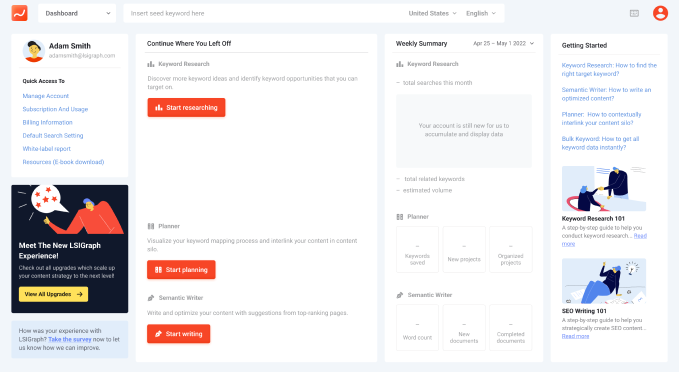 Tip!
The shortcut to switch to your dashboard is ⌘ or Ctrl + D.
The follow sections explain each element of your Dashboard UI.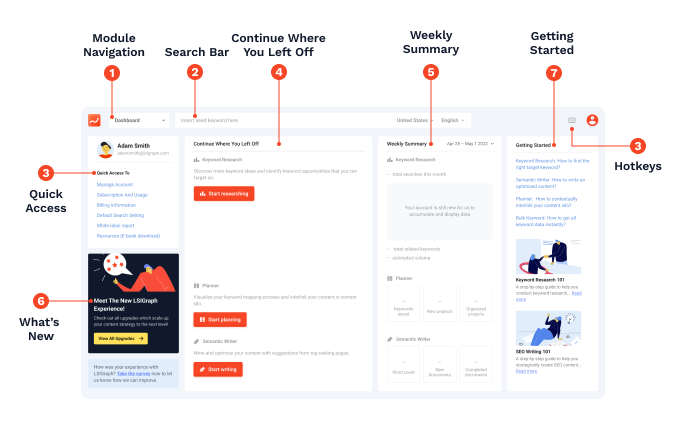 Module Navigation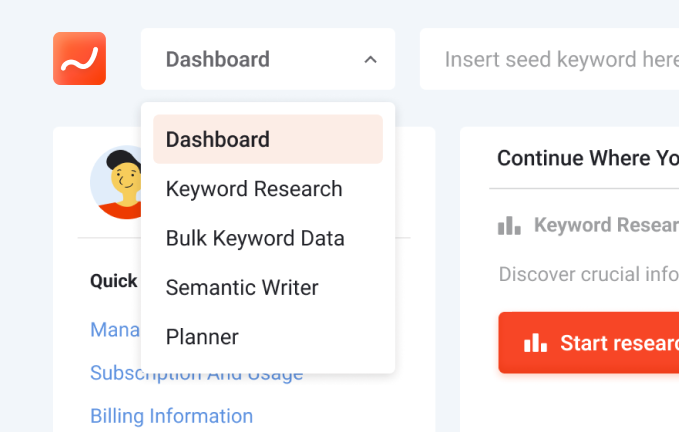 Navigate between the various LSIGraph tools with the drop-down menu on the top left of your dashboard.
You can also navigate between the tools with the list of hotkeys.
Search Bar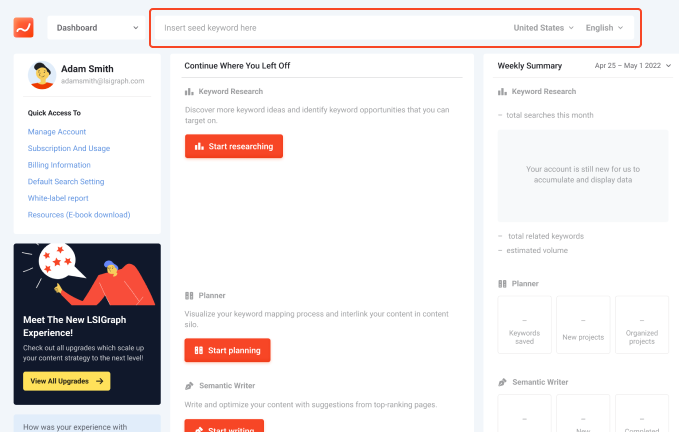 The search bar is where you begin your keyword research. Enter the seed keyword you're interested to research.
The search bar will allow you to either query your seed keyword in Keyword Research or start writing in Content Writer using that keyword as one of the parameters.

Tip!
You can set different locations and languages for your seed keyword search.
Quick Access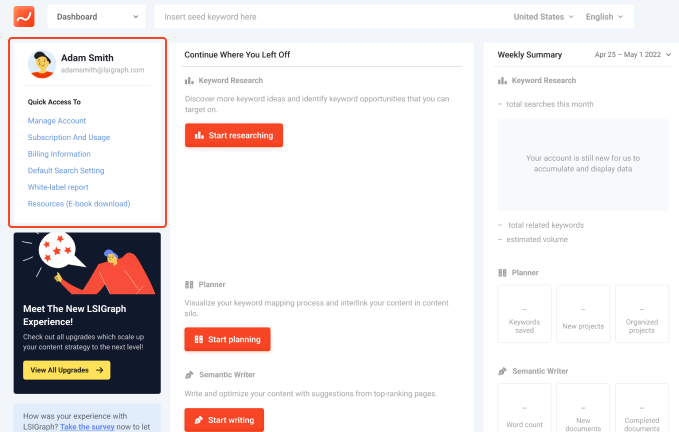 On your profile menu, you'll find the links to Manage Account, Subscription and Usage, and Billing Information.
There are also links to set your default search setting and generate white-label reports.
The Resources section contains all the LSIGraph e-books you have purchased and a few free ones.
Continue Where You Left Off
Pick up where you left off with links to your recent Keyword Research searches, your Planner, and your works-in-progress in Content Writer.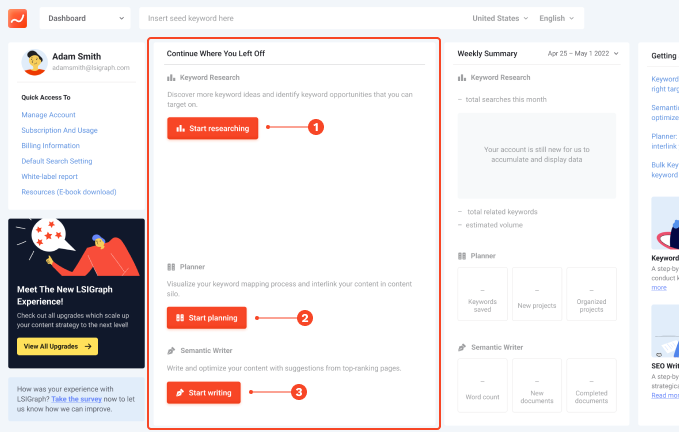 1
Start Researching: Brings you to the Keyword Research page. Start finding traffic-boosting keywords for your content.
2
Start Planning: Opens the Planner. You can find Keyword Mapper here.
3
Start Writing: Go directly to Content Writer to stary writing your next page 1 ranking content!
Weekly Summary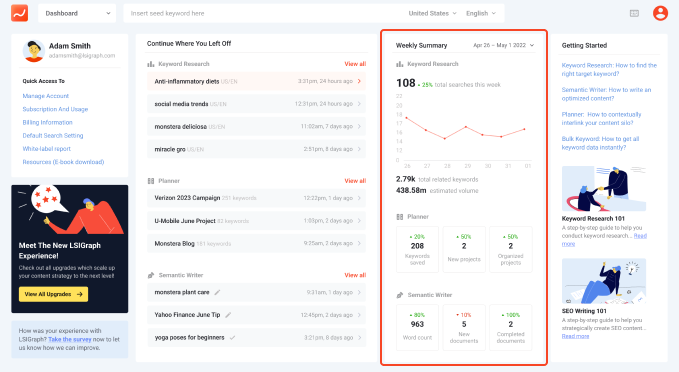 Weekly Summary displays your productivity for the week.

Tip!
You can change the time range to month and view your productivity for the month in the drop-down menu on the top right corner of the window.
The summary tells you how many seed keywords you have searched for during the time range, the total number of related keywords (contextually-related keywords), and the estimated search volume (volume of searches for all your keywords).
It also shows how many keywords you have saved in Planner, the number of projects, and organized projects.
You can also see how much content you have worked on in Content Writer during the time range.
What's New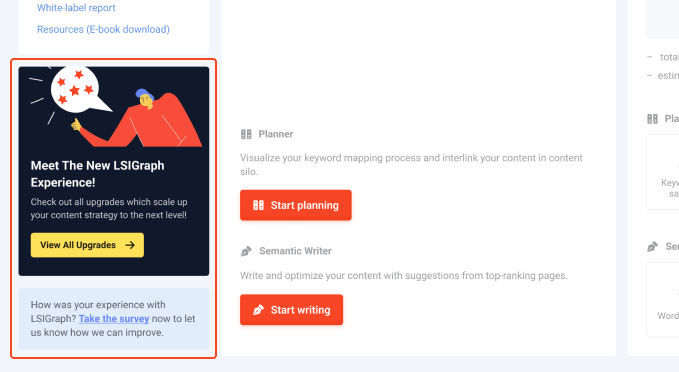 What's New keeps you up to date on LSIGraph's new features and latest developments.
Get Started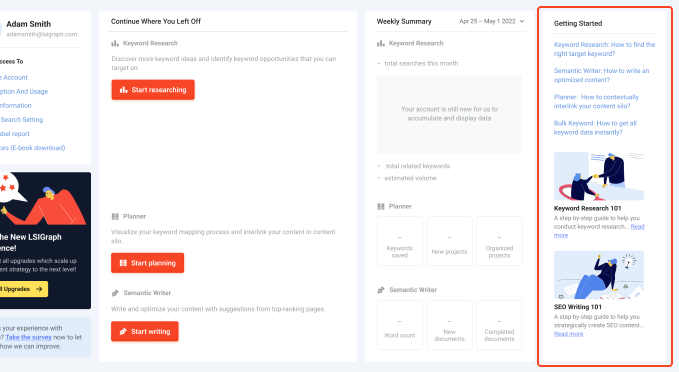 Getting Started is your portal into all of LSIGraph's feature tutorials.
Hotkeys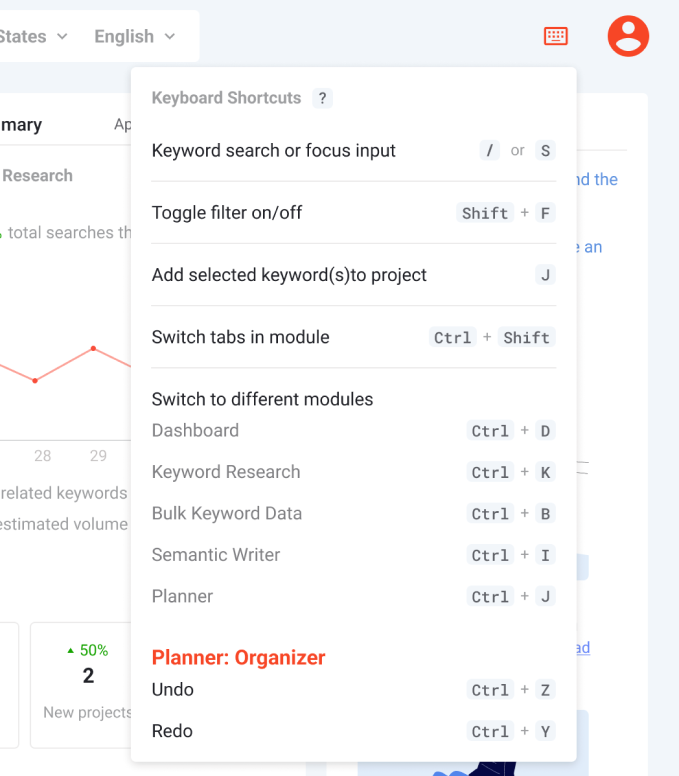 On the top right corner of every page, you'll find the list of hotkeys to help you quickly navigate around LSIGraph's features. Here are som common keyword shortcuts.
Keyword search or focus input

/

or

S

Toggle filter on/off

Shift

+

F

Add selected keyword(s) to project

J

Switch to your dashboard

⌘

or

Ctrl

+

D

Switch to Keyword Research

⌘

or

Ctrl

+

K

Switch to Bulk Keyword Data

⌘

or

Ctrl

+

B

Switch to Content Writer

⌘

or

Ctrl

+

I

Switch to Planner

⌘

or

Ctrl

+

P

Switch between tabs in a module

⌘

or

Ctrl

+

Shift
Starting Your First Search
There are three ways you can begin your seed keyword research.
1. Search Bar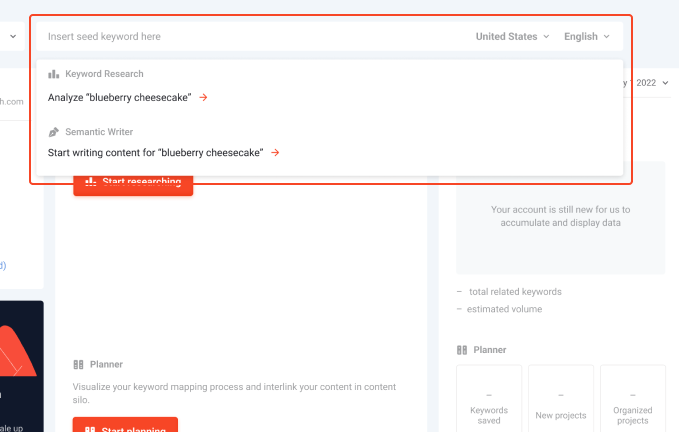 The easiest way to get started with keyword research is to input your seed keyword in the search bar at the top of your Dashboard page.

You will then be prompted to perform the search on either the Keyword Research page or start writing in Content Writer with your chosen keyword as one of the parameters.
2. Main Dashboard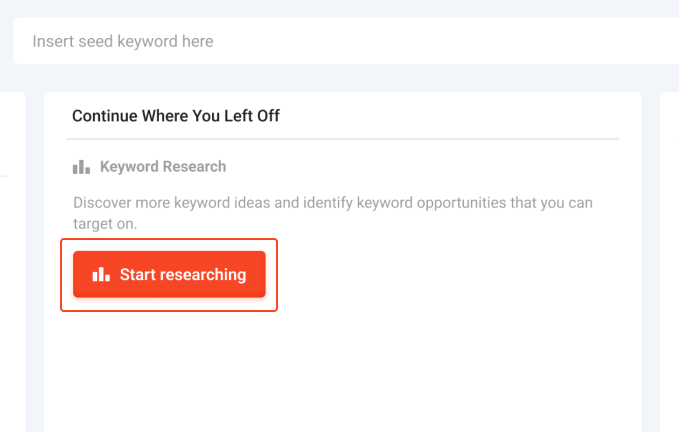 You can also click on the 'Start Researching' button under Continue Where You Left Off, which would lead you to the Keyword Research page itself.
3. Keyword Research Dashboard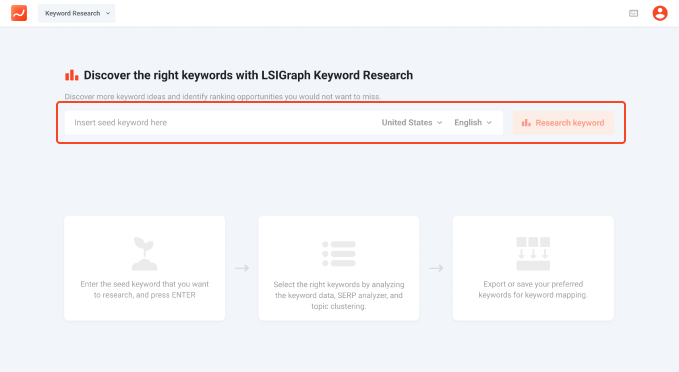 Finally you can navigate to the Keywords Research through the drop-down menu in the top left corner.

Tip!
The shortcut to switch to Keyword Research is ⌘ or Ctrl + K.