1 : What Is LSI Keywords?
Latent semantic indexing (LSI) keywords are essentially keywords that are semantically related to your main keyword, used in a search query. These LSI keywords supplement the main keywords and act as helpers to give a stronger contextual information to the search engines and users. However, it is never intended to be the synonym of the said keyword or keywords that are similar in meaning.
In short, an LSI keyword is a keyword (or word phrases) that has a high degree of correlation (relevance) to the primary keyword.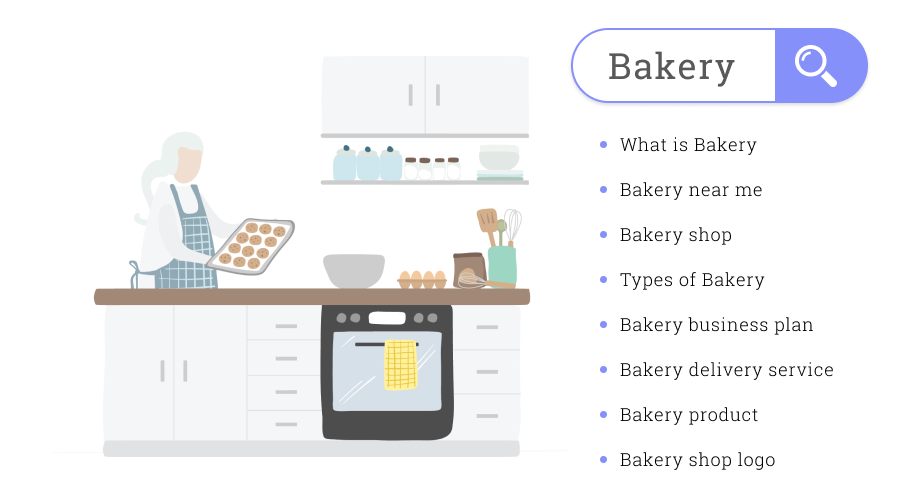 LSI keywords of the main keyword "bakery".
Latent semantic indexing was originally developed as a mathematical method in the late 1980s for better accuracy in information retrieval. The LSI technology is then widely implemented in various grading and analyzing of text to uncover the meaning of the text in response to user's queries.
These accompanying words that provide context to the main keywords are what Google understands as LSI keywords to decide which is the correct meaning.
If Google is able to understand your content better, then the higher is your rankings.
2 : Why Are LSI Keywords Important For SEO?
Understanding and implementing topical LSI keyword usage is critical in 2019. By strategically integrating them into your content helps your SEO and provides your website with a competitive advantage.
Let's look at its benefits and why are they such an important aspect to your SEO today.
1
Helps Google algorithm determine the content quality and relevance to the search term
LSI keywords supplement a stronger contextual information and meaning to a topic. Therefore, by including semantically related search phrases in your page's SEO copy, you are giving the search engines a better understanding of your page, company, products, and services.
Besides that, it also allows Google to improve the match between what people search for and what they find in the search results. Well true enough, LSI was designed to help searchers find what they're looking for, not just what they search for.
More than ever before, topics build search engine results instead of just stuffing keywords. All the recognition given on LSI keywords encourages website owners and their search engine optimization specialist to create and maintain quality content.
At the end of the day, Google will be happy and so will your website visitors. Quality content keeps leads once they are in your funnel and hence increasing the conversion rate.
2
LSI keyword carries heavier weight than keyword density
Keyword density is the number of times your keyword occurs in your written content and is measured as a percentage. There was a time when all Google cared about was keyword density to rank a page. That goes to say, the more keywords you add in your content (whether relevant or not), the higher you will get ranked.
As we all know, the method called "keyword stuffing" was quickly learned by marketers and horribly spammed not long after. Using repetitive keywords can put your page at risk of getting a penalty; with LSI keywords, you can safely add closely related words without worrying about getting penalized.
Thus, to use them effectively, spread them throughout the body of your content and always make sure it sounds natural or makes sense to the readers.
This would be the perfect solution to avoid over-optimization of keywords too. We have been seeing Google constantly upgrading it's algorithm to identify and sort the most appropriate content for its users. Slowly and surely, we'll foresee Google removing keyword density as the main ranking factor for your website and thereby, LSI keywords remain victorious until today!
3
LSI keyword empower other keywords in a content
When you are creating a new website or writing an article, keywords will play the main role in the SEO part. Just so you know, all 3 classes of keywords (primary, secondary and tertiary) will help direct organic traffic to your website.
They also add more context to the keywords, making it easier to find more relevant results for your search. Google is avidly focusing on building relevancy between a category of keywords to a website rather than just a single keyword. Ideally, you will have higher chances to rank if the content includes other relevant terms than just repeating a long tail keyword over and over again.
In short, LSI keywords acts as a supplement to the primary, secondary and tertiary keywords used in a content. Implementing it helps in further strengthening the context and semantic relation of the content to it's topic.
3 : How Can LSI Keywords Improve Your SERP Ranking?
LSI keywords can help you to boost your SERP ranking. Understanding LSI is now a requirement for modern SEO professionals and content marketers.
Ultimately, your SEO strategy needs to mirror the sophistication of Google's ever-changing search engine algorithm if you want to rank high.
Here are three reasons LSI keywords can improve your SERP ranking:
1
Google better understands the context of your page
Using LSI keywords to integrate the most relevant information and phrases that closely match what searchers are looking for in a content, helps Google to understand the context of the content better.
Since Google is constantly trying to provide its users with better search results and is focusing on the whole context of the page rather than just the density of the keywords, hence your page which is containing LSI keywords will get a better ranking because Google will be able to understand your page better now.
Let's look at an apple as the example for this round. If in a set of content we can find the words "healthy", "sweet" or "fruit salad" it's safe to say that the word "apple" in this context means the fruit.
On the other hand, upon finding words like "lightning port", "iPhone" or "gadgets" being used, it stands clear that "apple" in that context means the giant tech company.
To put it briefly, the right usage of LSI keywords helps Google assign the right search ranking. When you make Google's job easier by including related keywords, then you'll see your rankings go up too!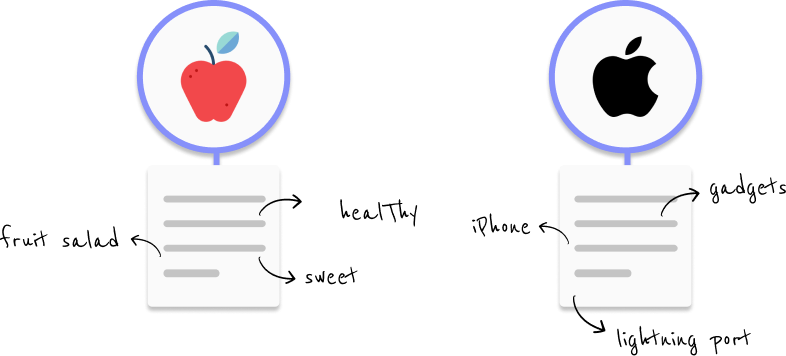 Tell Google which Apple do you mean.
2
LSI Keywords helps you to better understand user intent
Understanding what users want, professionally known as user intent, has become a driving force in SEO and search marketing to bring relevant people to your site. This is because everyone searches differently or has a different goal in mind.
When you search for 'warriors' in LSIGraph, it will return with a list of LSI keywords. All these keywords give an insight to what people have in their mind when searching for 'warriors' in the search engine.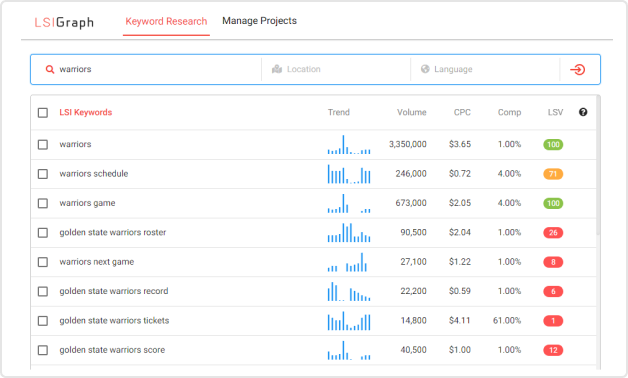 As a non-NBA fan, little did I know when people are looking for warrior, they are actually looking for the NBA team.
From the results, we can see that when people type in 'warriors', it is the American professional basketball team 'Golden State Warriors' that they have in mind rather than the 'warriors' soldiers or fighters.
So, if you are planning to write a blog post on the basketball team "Warriors", these are probably the things that you may want to talk about; golden state warriors, warriors schedule, golden state warriors score and so on.
By knowing your user's intent, it helps drive your keyword research accurately. As an online marketer, it's our job to discover what our potential customers are searching for and giving it to them the best that we can.
3
Your page will appear on SERP for "keyword variations"
Once again, LSI keywords are closely related to your main keyword, that also means your page is going to come up in the search results for your main keyword as well as for those keyword variations.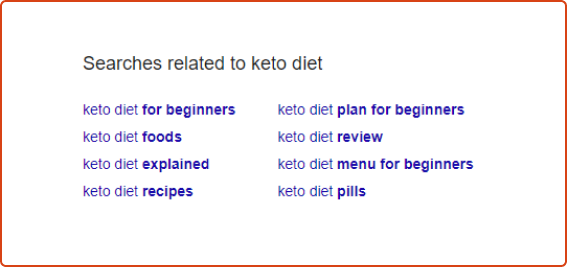 Keyword variations reveal the other popular searches of your main keyword.
By going through these variations, you get to know what other people are searching for too. The returned results that you normally see at the bottom of the SERP makes your content LSI-friendly if you include them naturally in your content.
And there you have it, more relatable topics to scribble on!
4 : How To Find LSI Keywords?
At this point, you should have fully understood the importance of LSI keywords in doing keyword optimization.
Now let's look into how you can find them easily using this free keyword tool.
Use LSIGraph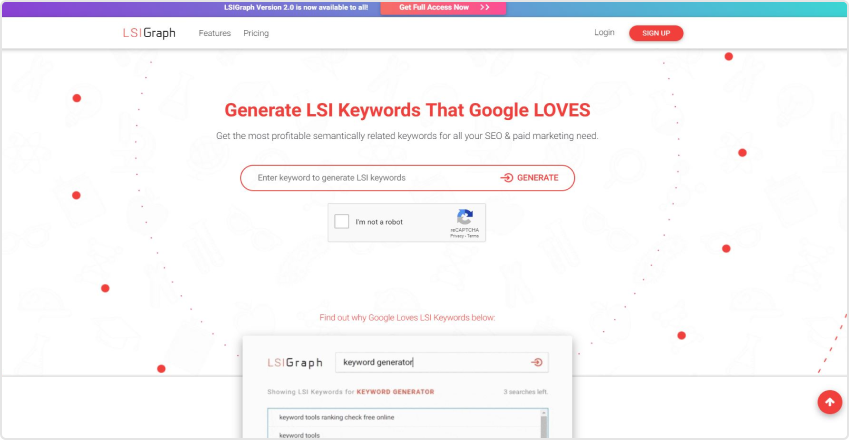 Use LSIGraph to get your LSI keywords
LSIGraph is a simple-to-use tool that gives you hundreds of LSI keywords within a second. Currently, it has a database of over 30 million keywords for you to benefit from.
Using the free version of the LSI keyword tool, you can generate a list of LSI keywords. Do go ahead and try it out!
For instance, type in the keyword "plumbing services". You will see a list of LSI keywords ready to be used such as "24 hour plumbers near me", "plumbers near you", and the list goes on.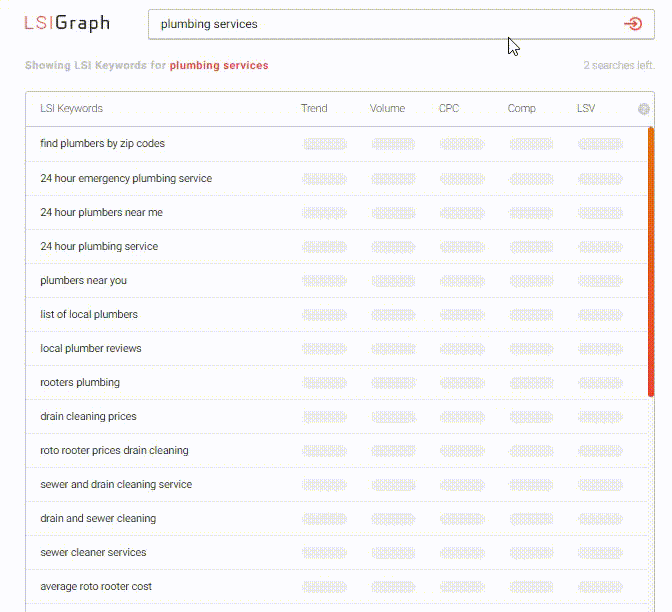 LSIGraph generates hundreds of LSI Keywords for you
From the list of LSI keywords, choose those keywords that are relevant to your content and apply them.
Let's look into the following scenarios.
Seed Keyword
LSI Keywords Found in LSIGraph
Plumbing service

24 hour emergency plumbing service
24 hour plumbing services
24 hour plumber service
list of local plumbers
sewer cleaning services
best local plumbers
affordable drain cleaning
cheap plumbers near me
Assuming the keyword that you want to target is "plumbing service".
By using LSIGraph, you have a list of LSI keywords that you can use in your content. But you cannot simply include them in your content.
If your plumbing service is offering a 24 hour plumbing service, then you should include the LSI keywords "24 hour emergency plumbing service" or "24 hour plumber service" in your content.
Most plumbing services is not planned or not expected to happen and the repair works need to be carried out as soon as possible.
Before adding LSI keyword
We are offering 24 hour emergency plumbing service to our customers. This is because most plumbing services is not planned or not expected to happen and the repair works need to be carried out as soon as possible.
After adding LSI keyword
If it is not offering a 24 hour plumbing service, but at an affordable rate, then you may include the LSI keywords "affordable drain cleaning" or "cheap plumbers near me".
We will look into this in a deeper scale next.